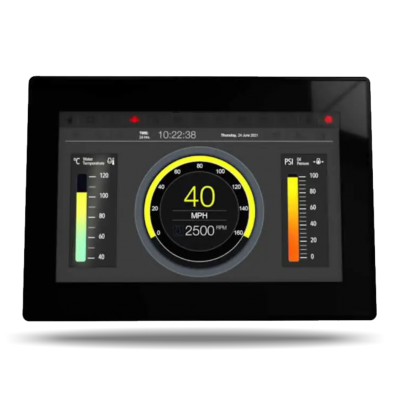 Touch Screens – 5″
DSSA's CAN bus Touch Screens, run embedded Linux for monitoring and control solutions, are ruggedized to withstand the harshest conditions. Our screens are manufactured to be sunlight readable enabling operators to have a clear view of relevant information at any time, whatever the environment.
Our 5″ Touch Screens  boast a hi-resolution customisable colour screen, delivering modern tablet like aesthetics.
With dual CAN, Ethernet and Video supported screen, the T5 is suited to a wide range of applications. External
buttons can be added via compatible CAN keypad.
Meeting the need for tough, flexible instrumentation while offering high performance and design specifications. Custom
software applications are rapidly created and the screen can be integrated into a control and monitoring system using its data logging capacity and alarm functionality.
Our Touch Screens are deployed in an extremely wide range of applications; underground on machines literally at the coal face and monitoring rock crushers, on land from agricultural equipment to racing cars, at sea as boat engine displays & controlling gyro stabilisers, plus many more diverse applications.