Case Studies
EMT100 (Erceg Mining Trucks)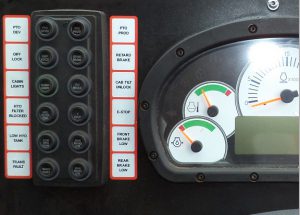 Malaga based Mining Equipment Spares were in line to build a niche range of multi-purpose service trucks for the mining industry.
Erceg Mining Trucks (EMT), a special division of Mining Equipment Spares, was established in order to specifically handle the design, development and construction of these custom built trucks. Due to the specialised, totally tailored service that these trucks would be required for, incorporating a Digital Switching System was the only reliable and adaptable system that would be able to carry out specific instructions suited to these particular environments.
With the EMT100 being supplied to some of the world's largest Mining Industries in Australia such as Dyno Nobel and Orica the Digital System had to be rugged, re-programmable and user friendly.
The Digital Switching Systems have all been individually designed and tested to suit the specific functions and conditions under which these trucks will operate.
We have kept in mind and designed the system to perform, diagnose and protect in these tough mining conditions.
In order to maximise on-site utilisation, our digital system has been modelled and built to combine high reliability with low maintenance.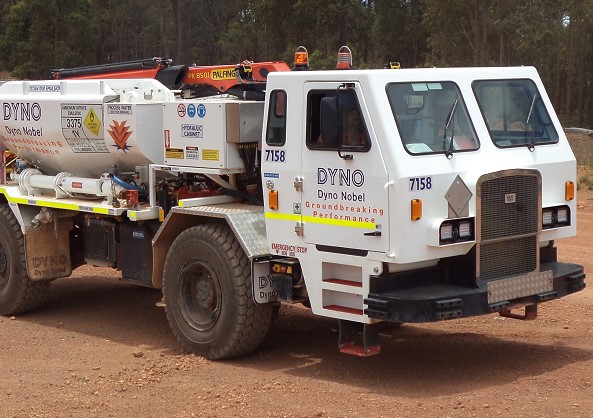 Haines Hunter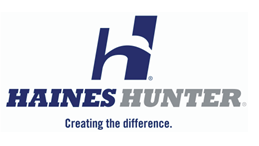 In 2007 Haines Hunter were looking to give their boats a leading edge on their competitors and offer their customers absolute reliability and versatility of an electrical system that would never date.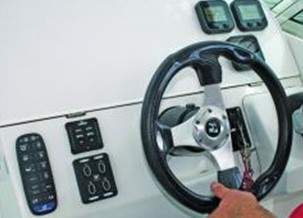 So we designed and delivered what is said to be the latest and greatest technology extensively used throughout Europe and the USA but mainly on the high end of the market such as Sunseeker.
Our integrated design using the versatile PowerCore 21, which controls activation, voltage regulation and also does away with the need of conventional circuit breakers and fuses, was the exemplary solution.
Vessel Security also is a big factor, with the incorporation of the "Keyless Go" system, customers no longer have to worry about losing their ignition keys or dropping them overboard.
By using the special designed "Keyless Go" Keypad the customer only needs to enter a 5 digit pin number to switch on the ignition and start the engines.
The Keypads have been custom designed and made exclusively for Haines Hunter. They have a soft touch and are warmly backlit for night time operations and, are completely waterproof.
Haines Hunter was the first Australian Boat builder (in their class) to adopt and offer Digital Switching to their customers, thus complimenting these beautifully built vessels.
Sunrunner

Luxury Boat Builder Sunrunner, decided after much careful planning, research and ongoing development to provide their customers a high quality, state-of-the-art electronics solution to selected models of the affluent Sunrunner range.
Taking this into consideration we modelled a custom Digital Switching System that would keep in line with the high quality engineering and production Sunrunner customers have now come to expect.  While combining our sleek keypad interfaces and PowerCore 21 we were able to implement custom features with an extensive and exciting menu of switching solutions.
Introducing the Digital Switching System to the Sunrunner Sport Cruiser vessels has also reduced manufacturing and labour costs when it's compared to a standard discreet switch solution.
Sunrunner had quickly carved out its' own niche by incorporating our custom, leading-edge technology, thus proving that versatility and reliability has never looked so good.
Brisbane Isuzu – Ergon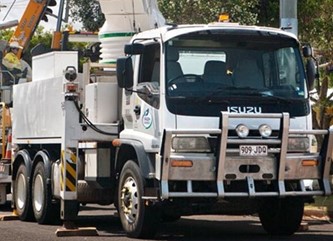 Brisbane Isuzu wanted to offer their customers innovative, smart solutions to complications that arise by using standard analogue electrical systems. This is where we stood in and proposed for Ergon Energy a digital switching system which would provide a solution to all their electrical requirements.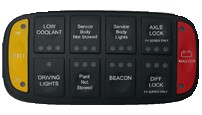 Ergon OH & S Issues
Operator Safety
Equipment Protection
Failure to Turn Inter-Locks & Diff Locks OFF
Overcrowding of Bolts on Products to Interfere with Under Dashboard
DSSA Solution
Hand Brake Alarm – Monitors Lockers, Legs & PTO Bucket
Automatic Battery Disconnection after Ignition is OFF for 60min
VSS to Provide Signal to Disengage Interlocks & Diff Locks
All Bolt ON's Connect Via PowerMate 15 ie; Reducers
Triple 8 Race Engineering – Red Bull Racing Trailer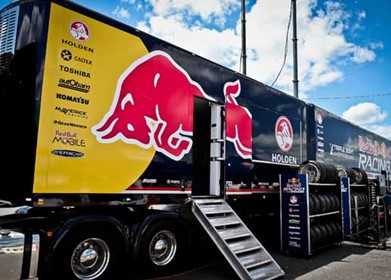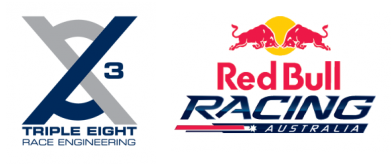 When Triple 8 Race Engineering sort to incorporate the latest technology to their design of new Red Bull Racing Australia Trailers in 2013 they looked no further than to our Digital Switching Systems. Incorporating a Digital Switching System to the trailers encompassed all that was innovative, reliable and effortless to the end user.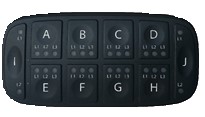 The two trailers are completely stand alone with their own power convertors and digital keypads. The PowerMate 15 fitted has been specifically programmed to suit the team's detailed requirements, whether its day or night, a simple press of a button will deliver the preferred lighting solution. All of this is controlled by our Digital Switching System. The customised program allows any member of the team to easily select the appropriate mode required. Whether its daytime at the track, at night packing the transporter or the central locking; it's a simple press of the mode button to suit the situation.
Our DSS system also has a simple fault diagnostic keypad located near the PowerMate 15 in the event that a circuit trips, thus protecting all components and making the Digital System a superlative solution to any project.
Australian Antarctic Division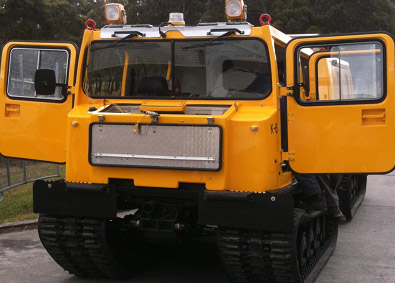 Digital Switching made waves on the small island of Tasmania by introducing a rugged and durable Digital Switching System to the Australian Antarctic Division. Needless to say AAD were suitably impressed by the engineering of the innovative system and of course it's resourceful capabilities.
AAD conducted tests on the systems at temperatures lower than minus 58 degrees Fahrenheit (-50 C) a benchmark unmatched in the market. The Antarctic Division have now introduced Digital Switching Systems on the range of Hugglands recovery vehicles, which are used for expeditions on the South Pole.
The vast array of devices now turning to Digital Switching highlights the unique versatility this product offers to the consumer.
Watch the Huggland Vehicle in action: https://youtu.be/Q_Ual4aG0mk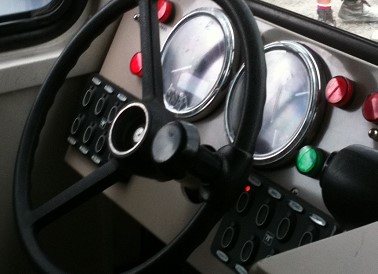 Boroma Caravans
Boroma Caravans started using Digital Switching Systems back in 2008 in order to enhance the functionality of their quality range of caravans.